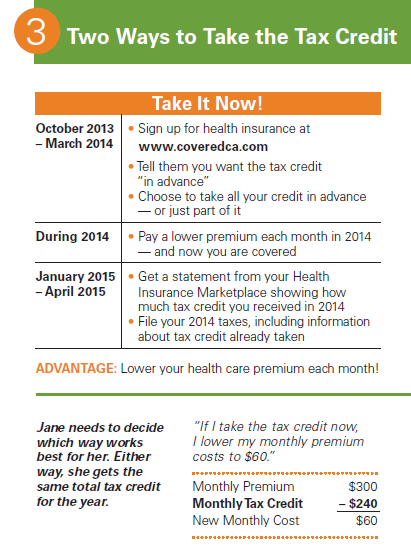 What's better take the Subsidy now or at tax time? 
One downside would be that you might have to pay back the credit when you file taxes.  Certainly the BIG advantage, is lower, more affordable premiums during the year.  Plus, you might qualify for Enhanced Silver Benefits!  Which lowers Co-Pays, Deductibles and the OOP Out of Pocket Maximum.
Check out the brochure from Covered CA on the take it now or later options.  or scroll down to read the bulletin we rec'd from the IRS on 11.10.2015
Check out our webpage explaining the IRS Form # 8962 Premium Tax Credit.
There is also a requirement to notify Covered CA on a monthly basis if your income changes see  –
Pub 5152 Report Income Changes as they happen for detailed information.
Covered CA Job Aid on How to Report Income Changes rev.  10.7.2015
Learn more about the definition of  MAGI income.
In your Covered CA account, you can use the slider to change or modify the amount of subsidy (some now, some later)
Three Tax Considerations during Marketplace Open Enrollment
When you apply for assistance to help pay the premiums for health coverage through the Health Insurance Marketplace, the Marketplace will estimate the amount of the premium tax credit that you may be able to claim.  The Marketplace will use information you provide about your family composition, your projected household income, whether those that you are enrolling are eligible for other non-Marketplace coverage, and certain other information to estimate your credit.
Here are three things you should consider during the Health Insurance Marketplace Open Enrollment period:
Advance credit payments lower premiums – You can choose to have all, some, or none of your estimated credit paid in advance directly to your insurance company on your behalf to lower what you pay out-of-pocket for your monthly premiums.  These payments are called advance payments of the premium tax credit  (APTC) or advance credit payments.  If you do not get advance credit payments, you will be responsible for paying the full monthly premium.

Possible SNAFU's – Insurance Company asking for excess credits back… OC Register 7.27.2016

A tax return may be required – If you received the benefit of advance credit payments, you must file a tax return to reconcile the amount of advance credit payments made on your behalf with the amount of your actual premium tax credit.  You must file an income tax return for this purpose even if you are otherwise not required to file a return.
Credit can be claimed at tax time – If you choose not to get advance credit payments, or get less than the full amount in advance, you can claim the full benefit of the premium tax credit that you are allowed when you file your tax return. This will increase your refund or lower the amount of tax that you would otherwise owe.
What if you don't tell Covered CA in advance that you want the credit, can you still get the deduction when you file taxes, as long as you got your coverage though Covered CA?
For more information about open season enrollment, which runs through January 31, 2016, visit Healthcare.gov. See our Questions and Answers on IRS.gov/ca for information about the premium tax credit.  Email Rec'd 11.10.2015
Related Pages in Tax Credit and FAQ Section
1095 A – Proof of Coverage from Covered CA  – shows amount of tax credit you rec'd during the year, that was paid to the Insurance Company to reduce premiums.
CHCF What is the premium tax credit?
IRS.Gov FAQ's on the Premium Tax Credit
Publication 5120 –Your Credit, Your Choice – Get it Now or Get it Later   English | Spanish
Publication 5121 –Need help paying for health insurance premiums?   English | Spanish
Publication 5152 –Report changes to the Marketplace as they happen  English | Spanish
Historical
Here's screen shots of Covered CA's ONLINE Application of how you might want to take less or zero subsidy and just even out at tax time.  Covered CA brochure on take it now or later Page 4.  It may also help keep you out of Medi-Cal if your income is too low, see  Federal Poverty Level –FPL chart or get a quote.
• Changing APTC – Recorded Webinar
• Changing APTC –  PDF of Webinar Presentation