Arguments Against 
CAHBA Website  cahba.com/aptc_over_65     cahba.com/can_a_senior_citizen_cancel
However, the Kaiser Foundation calculator shows a maximum age for the credit of 64!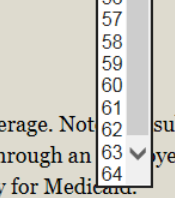 We do not believe the CAHBA arguments apply as Section 1331 Page 81 applies to Alternate Programs….[Basic Health Program]   for those not eligible  not the credit in general.  Watch the CAHBA discussion board for updates.
Patient Protection and Affordable Care Act (Public Law 111-148)  –§1331(e) Eligible Individual
(1) IN GENERAL.—In this section, the term ''eligible individual'' means, with respect to any State, an individual—
(A) who a resident of the State who is not eligible to enroll in the State's medicaid program under title XIX of the Social Security Act for benefits that at a minimum consist of the essential health benefits described in section 1302(b);
(B) whose household income exceeds 133 percent but does not exceed 200 percent of the poverty line for the size of the family involved;
(C) who is not eligible for minimum essential coverage (as defined in section 5000A(f) of the Internal Revenue Code of 1986) or is eligible for an employer-sponsored plan that is not affordable coverage (as determined under section 5000A(e)(2) of such Code); and
          (D) who has not attained age 65 as of the beginning of the plan year.
     (2) ELIGIBLE INDIVIDUALS MAY NOT USE EXCHANGE.—An eligible individual shall not be treated as a qualified  individual under section 1312 eligible for enrollment in a qualified health plan offered through an Exchange established under section 1311.
"Eligible individuals" are not "qualified individuals" — to obtain a premium tax credit, one must be a "qualified individual".
Such term shall not include any individual who is not a qualified individual under section 1312 who is eligible to be covered by a qualified health plan offered through an Exchange.
Wikipedia…
The law is also designed to be flexible by allowing states, from 2017 onwards, to apply for a "waiver for state innovation" from the federal government that allows them to experiment with their own state-based system, on condition that it meets certain criteria.[171] "Public Law 111 – 148, section 1332". To obtain a waiver, a state must pass legislation setting up an alternative health system that provides insurance at least as comprehensive and as affordable as that the ACA would, covers at least as many residents, and does not increase the federal deficit.[172] Provided a state meets these conditions, receiving a waiver can exempt states from some of the central requirements of the ACA, including the individual mandate, the provision of an insurance exchange, and the employer mandate.[173] The state would also receive compensation equal to the aggregate amount of any federal subsidies and tax credits for which its residents and employers would have been eligible under the ACA plan, if they cannot be paid out due to the structure of the state plan.[171]
As of November 19, 2013, only Vermont, a state in which Republicans are but a small minority, in May 2011, has enacted an alternative plan — a state-based single-payer system for which they intend to pursue a waiver to implement.[174][175][176]