Free Instant Quotes - Including Subsidy Calculation
Same Price as Covered CA or Direct with Insurance Company!
Set up time for phone, Skype or face to face meeting
Guaranteed Issue - No Pre X Clause
Detailed Video Instructions on using our Quote Engine
FAQ's
exemptions from tax penalty for not having Health Insurnance.
This is an FAQ page on exemptions from tax penalty for not having Health Insurance. 
See the introduction page for Form 8965.
I have some questions about correctly filling in form 8965 and claiming exemptions.
Here is the year's breakdown:
My husband and I met in April, married in May.
Prior to May, he was below the income threshold, and therefor would have been covered under an exemption (no code, it's under part 2 of the instructions).
***Why didn't he get Medi-Cal?
Please note, that agents only get paid for helping you, if you appoint them as YOUR agent, no charge you.  Please sign and return this form, so we can get paid.
Prior to May, I was not covered under any health insurance (Exemption G).
PLEASE, when citing something, give me the URL, page # and maybe a screen shot, so I don't have to look it up!
http://www.irs.gov/pub/irs-pdf/i8965.pdf#page=12
Gap in coverage at the beginning of 2014 (code "G").
If you or another member of your tax household enrolled in coverage through the Marketplace [
Covered CA
] [2nd paragraph any insurance company] and your coverage started on or before May 1,2014, you can claim a coverage
exemption for any month(s) prior to May 2014
that you (or another member of your tax household) did not have coverage.
To claim this coverage exemption, enter code "G" in Part III, column c, and identify the months to which the exemption applies as described under Column d – p—Calendar Months, later. You can claim this exemption for any month prior to the effective date of the coverage
From May to July, I was covered under my employer's health insurance plan (and I think he might have been, too – let's cover both options in the explanation?).
***Thus, you should get a 1095 B, but it's my understanding that these forms are not required to be completed by Employers or Non Covered CA Insurance for 2014.
From August to December, we were both covered via Covered California, and I have a 1095-A form which we will submit with our fed taxes.
***Great, shouldn't be any problem.
Is he covered under the affordability exemption if we can show that my employer-sponsored health insurance would have been unaffordable at the time (if we didn't add him)?
***I don't think so, check with a CPA or Attorney, as it goes by if it's affordable for the employEE.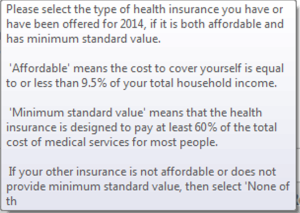 BUT WAIT!!!,  The above is for subsidies, let's check out the 8% rule.
More on the affordability exemption from Tower's Watson ♦ 8965 Affordability Worksheet
If we did add him to my employer-sponsored health insurance, would he be covered under Exemption G, as I am?
***You didn't so let's not deal with hypotheticals.
Or, is he covered under the income threshold because at the time, the only income to consider was his own?
***He should have gotten Medi-Cal.  So, I don't think the 8% rule would apply.
Is he exempt because one of the members of the household was covered (myself)?
***That doesn't make sense.   Do you see anything in the instructions for 8965 that I don't?
Or, is he exempt because he would have qualified for free health care if he had ever actually applied?
***I don't think so.  He should have applied for Medi-Cal.  Ask your CPA or Attorney.
Can we stack exemptions (for example: G, then B)
to cover him until Aug 1 when we were covered by Covered California?
***Looks that way to me.  Check with your CPA or Attorney.
If one member of the household was covered either by exemption or minimum coverage, but the other not, do we still pay the full penalty?
***No, penalty is per person, not in compliance.
Further, I believe that we provided an estimated income of approximately $25,000, but earned a bit more than that only if we include my unemployment benefit – will this result in a subsidy overpayment?
***Quite possibly.  See Form 8962 Premium Tax Credit.   MAGI – Modified Adjusted Gross Income – Line 37
His income was approximately $6,750, and mine was $23,680.89 (plus $4,212 in unemployment benefits = $27,892.89).  Our premium assistance for Aug-Dec was $413 for a plan that cost $469.34.  Annual totals are $2,065.00 and $2346.70, respectively.
***Use my calculator.
Tax Software FREE if income under $60k.
Thanks in advance for any help figuring out which exemption to apply and how to apply it!
–Rxxx