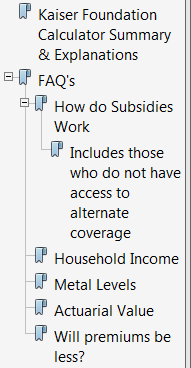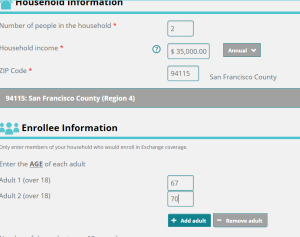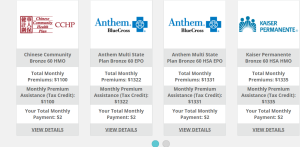 Can someone over 65 ineligible for Medicare – as they have not lived in the USA five years so they can buy in to coverage  get the advance premium tax credit?
 We believe they can, after weighing the research below:
Pro

Q  I entered the U.S. lawfully and I'm over 65, but I don't qualify for Medicare. Can I apply for coverage and subsidies in the Marketplace?
Yes, you can purchase Marketplace coverage and qualify for subsidies based on your income.  KFF
Individuals must also not have an offer of affordable health insurance from an employer or from the government.
For Premium Assistance, you must be otherwise eligible and your annual household income must be between 138%* and 400% of the federal poverty level (FPL).
For Cost-Sharing Subsidies, you must be eligible for Premium Assistance and your annual household income must be between 138%* and 250% of the FPL. You may only receive cost-sharing subsidies if you enroll in a Silver-level plan.   Covered CA FAQ 102
Aetna 5.2016 Letter that when you get Part A you don't get subsidies
Medicare Part A has a premium: However, if someone qualifies for Medicare but has to pay a premium for Part A and does not enroll in Medicare Part A, they may be eligible for a Covered California health plan. Depending on a consumer's income, they may be eligible for premium assistance and cost-sharing subsidies for the Covered California health plan.  Covered CA – Medicare Info 
To be eligible for tax credits, an individual must:
Be a U.S. citizen, U.S. national, or lawfully present immigrant who has purchased coverage through Covered California.
Have an annual household income between 138%* and 400% of the FPL.
Not be eligible for other public health coverage—including full-scope Medi-Cal, premium-free Medicare Part A, or military coverage—and must not have access to health insurance through an employer. …
Q I have less than 40 Social Security quarters and I will have to pay a premium for Part A, Part B and Part D. Can I buy a health plan from Covered California?
We think people who will have to pay a premium for Part A because they are not entitled to premium-free Medicare Part A can buy a Qualified Health Plan if they are not already enrolled in Medicare. … If you are eligible for a tax credit through Covered California, remember to take into account any premium assistance or cost-sharing subsidy that might reduce your costs for a QHP.  CA Health Advocates
Q. I'm looking forward to buying insurance for my 82-year-old mom. She came to live in the United States this year and got her green card in July 2013. She is not eligible for Medicare since she has never worked/paid taxes in this country. How much will it cost to insure her?
A. Most immigrants who are "lawfully present," including people with permanent resident status (also known as green card holders), can buy coverage on the exchange. Just like citizens, they are also eligible for premium tax credits and cost-sharing assistance if they meet the income requirements. (In fact, most legal immigrants must have coverage by 2014, unless they qualify for an exemption.)
As a green card holder, your mother will be eligible for the exchange, but will need to live here for five years to qualify for Medicaid. Since she is not eligible for Medicare, however, she can apply for a premium tax credit, said Lynn Quincy, a senior policy analyst at Consumers Union.  New York Times
Q. I'm over 65 but I don't qualify for Medicare. Can I buy a plan on the exchange?
A: Individuals who are 65 years of age and over can purchase plans through Washington Health plan finder even if they are Medicare eligible. But they are only eligible for the tax credits if they are not Medicare eligible.
If a person is over 65, not Medicare eligible, and meets the other eligibility criteria, he or she could purchase a health plan and receive tax credits, too. Seattle Times
Who can buy health insurance through Covered California?
Legal California residents , except for currently incarcerated individuals and legal minors, are eligible to buy insurance through Covered California. Covered CA.com  Agent training Page 15 4.1.1
You're over 65 but not eligible for Medicare. You are welcome to purchase a health plan from HealthCare.gov, the health insurance marketplace for Alaska. If you meet the qualifications based on income and family size, you are eligible for cost-saving subsidies, too.  Legal Consumer
Kaiser Foundation Subsidy Calculator Explanation
Code of Federal Regulations 1.36B-2 Eligibility for Premium Tax Credit Is not eligible for minimum essential coverage [Can't get Medicare!]
26 USC §36B Refundable Credit for Coverage under a QHP Qualified Health Plan
.
If an applicant is eligible (exception to general rule)  for any of the following MECs but is NOT enrolled in the program at the same time he or she enrolls in a Covered California plan (i.e., no dual coverage), the applicant will be eligible for financial assistance, if otherwise eligible.  The MECs that fall under this exception include:
1.Medicare part A coverage requiring payment of premiums. Coverage offered under Medicare for which the individual must pay a premium for Medicare part A  coverage. 
LISI FAQ's
 page 5
.
Over 65 and do qualify?  You will be getting a letter from Covered CA about that.
Learn More==>
Covered CA shows them eligible.  Click on images at right to enlarge
So does my quote engine for which I pay $200/month


Zip Code – Date of Birth
See next page for the Con – Argument
Related Pages on Tax Credit Calculation
Covered CA Guidelines for Medicare or Not?
Penalty for not enrolling when eligible for Part A when you have to pay premium
65+ but less than 5 years in USA